xD
When I was making SafeColorLimiter this discussion popped up:
So, in a nutshell, this is what I think led to the misunderstanding.
1) End users receive a Limited TV Range 10bit 64-940 file with a color curve applied, either HLG or PQ
2) Broadcast studios can also use Full PC Range YUV values for those curves, however it's much more likely to have Full Range only for curves like Slog, Clog, LogC, etc
3) You're checking values and doing your calculations in RGB (assuming that the content is in Full Range) as LUTs must be applied in RGB
but here's the thing: when you have a Limited TV Range YUV file that is delivered to a TV, the TV can read the flag and convert to RGB correctly (since the display is always in RGB), but if you try to deliver an RGB whose black start at 64 and white peaks at 940, there's no way to flag it as "Limited", therefore it would almost definitely be displayed incorrectly unless a YUV conversion is applied or there's some system that is aware of this. This is probably the reason why the FFMpeg guys thought that, when you convert a Limited TV Range content to RGB, you don't want to "work with it", but you want to "deliver it" and, since it wouldn't be displayed correctly if it's linearly mapped, it will expand it! So, in the end, you were doing all correctly in the first place as your calculations assumed Full PC Range, the content was in Limited, but FFMpeg took care of it during the YUV to RGB conversion!
So... I think I may have made you lose time on something that has already been addressed by a conversion you were doing, but hey, we both learned something new today, which is that FFMpeg expands Limited to Full in YUV -> RGB. Who would have thought that...
I'll leave you to the Sakč: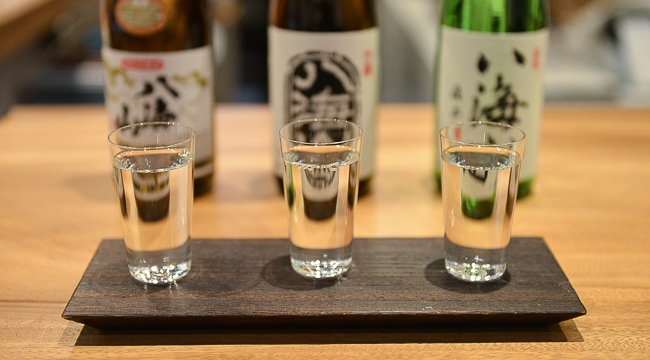 (fun fact I: the first time I tried sakč was in 2009 with my friends in an allegedly Japanese restaurant which was probably run by Chinese pretending to be Japanese; anyway I didn't like it that much.)
(fun fact II: there are three glass in the picture I grabbed from a website 'cause one is for you, one is for me and the other is from whoever wants to grab it. I think StainlessS is more of a Beer guy, so let's see... xD)